Giants LED Clocks
Dynamic Motion is proud to introduce the new Graphical Giant LED Clocks.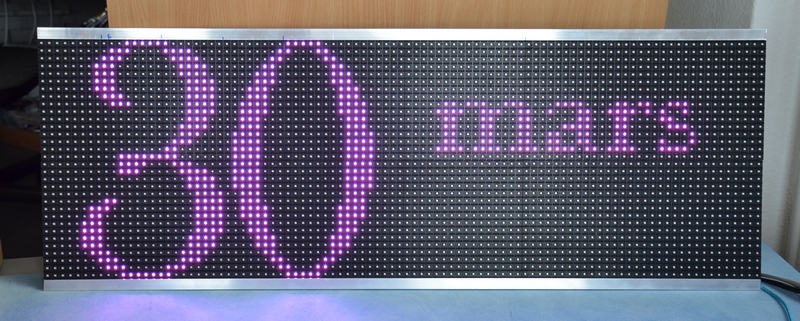 Discover details following this link.
Tynaxis+ BL450
The Tinaxis BL450, HIGH SPEED INTELLIGENT controller is a powerful motor driver,
programmable in BASIC, includes 32bit ARM processor.
Ideal for high speed motors (more than 20000 RPM, up to >80000 RPM), it has
special amplifier for low noise operation (no chopper on motor phases).
It has L-shaped cooling plate for easy mounting in a compact way.
12 to 50V– up to 9A continuous.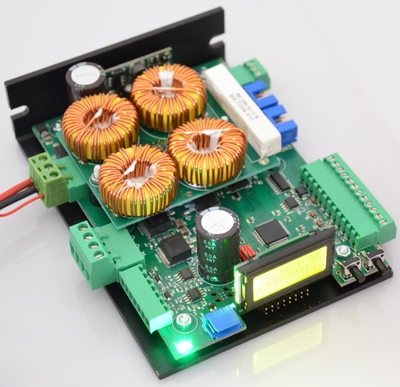 NEWS Tinaxis L BLDC 150
Brushless motor controller, small size and powerful
Dynamic Motion brings to market a new controller for "spindle" applications (air blower, mixers, pumps).
Very compact (40 x 35 x 18mm) and providing up to 150W (up to 30V 5A), this fully digital controller is setup using serial interface (USB / RS232).
It can be configured for PID speed control, using an analog set-point or values stored it its flash memory, that is activated using the inputs.
The Tinaxis-L-BL150 allows motor operation at high-performance. Controller is dissipating few heat even at full power.
Designed for industry, robust, efficient and cost effective, this controller is perfect for demanding applications in cost sensitive markets.
Eposbed project
EPOSBED Project:
Project under the auspices of the European Union under the 7th Framework: A new type of hospital bed, designed to assist in positioning and movement of persons with disabilities, without the assistance of hospital staff . The main innovation comes from an intelligent analysis of patient movement to drive a set of actuators that change the shape of the bed and the patient position system. Link to the official website: eposbed.pera.com